Overview

The Merchant's Guild is a worldwide company composed of traders that operate on "merchant ships" throughout the seas. These ships, found in all seas so far, are small "rest stops" in which you can buy a variety of items.
Related Ships
First Sea Appearance
In the First Sea, it is found between Doom Island and Savaria, and mainly sells equipment for those at or above level 30. This ship is manned by two people.
Samuel, The Travelling Designer 

Allows the player to customize their base appearance (what you look like without armor), such as your shirt, hair style, and skin color. 

Sydney The Travelling Merchant

 
Second Sea Appearance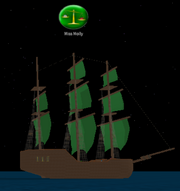 The Miss Molly is a merchant ship found in the second sea, and serves as the standard shop stop for those at or above level 120. It resides in between
Dawn's Refuge
and
Judgment Isle
.   
This ship is also the only area that sells the Ketch.   
The 5 people here sell potions, fishing supplies, ship parts, blueprints, tools, accessories, and hats. This ship also has a bounty board, where players are able to browse and start hunting bounties.   
Third Sea Appearance
The Sailing Bazaar reappears near Redwood Island in the Third Sea. Here, you can buy many of the same items from the first sea, along with more advanced items, particularly the Titanium Set, Deluxe Katana, Deluxe Cutlass, and Dual Katanas. Only Sydney is present on the ship, Samuel being located at Alalea's Merchant Square.     
Trivia
Past merchant ships had A.G. soldiers in them.
The crew of "Miss Molly" is the first all female merchant crew.
The theme of the Sailing Bazaar is the Skyloft Bazaar from Zelda Skyward Sword.