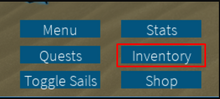 Overview
Inventory is where you can see all armor, cannonballs, weapons and collectibles you have, and one can equip weapons and armor here. Inventory is mainly made of 2 sections.
Armor: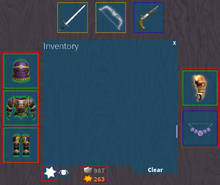 All items equipped here will directly affect the statistics of your character and will provide extra defense and extra damage.
One can also equip weapons here, which can be used throughout their adventure.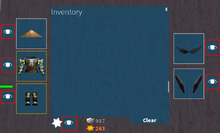 Vanity:
Vanity is the armor which will be visible to you and others and still give you the advantage of Armour pieces equipped in armor section.
One can toggle which armor parts are to be used as vanity by clicking on the "Eye" icons next to the armor parts.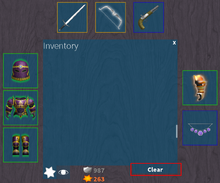 Previous to update v1.0 Grand Reopening, the Clear button existed and clicking this asks to confirm if you wish to erase your inventory and whichever armor/weapons that are equipped.