Ark Island is a minor island near Judgement Isle. It consists of two parts, connected by a wooden bridge,Theos is located on the top of the islands, who gives you the third and final part of the quest to unlock the Second Mind.
This is one of the two fan made islands in the Second sea, the other island being Mooncove Island
Appearance
Ark island is two small islands in the Second Sea which both form half an arc, facing each other and are being connected by a bridge giving the appearance of an archway. Covered with grass and trees around the top with the bases of both islands have a beach and palm trees scattered around. 5 chests are scattered throughout the island.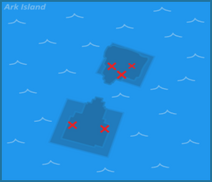 Associated Quests
Training (Part 3)
Quest Giver: Theos, found near the bridge on Ark Island
Objective: Defeat Theos at his Wilderness Arena.
Rewards: 5,000 Lamina, 4,000 EXP; ability to earn a second mind on Judgement Isle.
Note, you do not have to finish training part 1, 2 and 3 in order. Just as long as you have all 3 completed you can unlock your 2nd magic.
Ad blocker interference detected!
Wikia is a free-to-use site that makes money from advertising. We have a modified experience for viewers using ad blockers

Wikia is not accessible if you've made further modifications. Remove the custom ad blocker rule(s) and the page will load as expected.